On Tues I received an email from the Land Agent who presides over Pendle Hill which stated that pilots had been observed taking off at the northern extremities of Pendle Hill and landing in fields around Barley, these areas being outside of our area of agreement.
Can I ask that members refamiliarise yourselves with the PSC Site Guide and refrain from flying the North & East faces of Pendle?
Please pass the word around.
email below: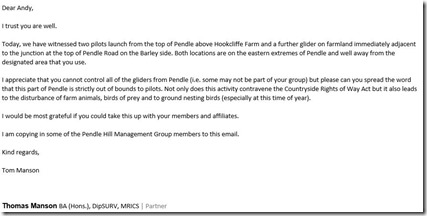 Thanks
Andy Archer
PSC Sites Officer