I have just had an email from the Land Agent for Pendle Hill (see copy below).
There were reports of paragliders flying the East Face of Pendle on Sunday 18.07.21. This area is out of bounds for flying at the landowner's request and does not form part of our licence agreement.
Pendle is one of our best sites and we would not want to lose use of the main face due to pilots flying the east. We have other easterly sites that can be used.
Please re-familiarise yourself with the sites guide here:
http://www.penninesoaringclub.org.uk/sites/pendle/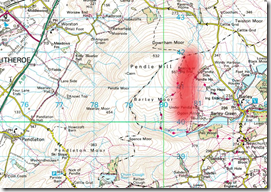 Area marked in red is 'Out of Bounds' for paragliding & hang gliding
'Dear Andy,
I trust all is well with you.
I noted that gliders were taking off/landing from 'big end' Pendle yesterday afternoon – directly above Hookcliffe plantation and further along towards Barley.
I know we have raised this previously and clearly you cannot control non-members but are you able to put a note out to your members reminding them that this is out of bounds.
The existence of the gliders relies on all parties working together and it is frustrating when a few let the side down'.
Thanks for your cooperation and adherence.
Andy
Sites Officer