As a reminder, please do not fly Pendle east face, this area is strictly out of bounds for flying at the landowner's request and does not form part of our licence agreement with Lancashire County Council.
Our activities on Pendle are very visible and we have had complaints by various stakeholders. Without the landowners express permission, paragliding and hang gliding activities are in contravention of the Countryside and Rights of Way Act 2000 (CROW Act) .
Pendle is one of our best sites and we would not want to lose use of the main face due to pilots flying the east. We have other easterly sites that can be used.
Note: Any flights flown from the east face will not score in the Pennine League.
Please re-familiarise yourself with the sites guide here:
http://www.penninesoaringclub.org.uk/sites/pendle/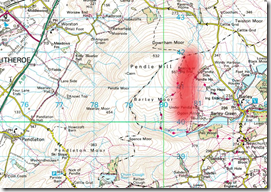 Area marked in red is 'Out of Bounds' for paragliding & hang gliding