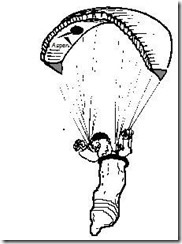 Fly Safe Folks!
Not long since the last safety bulletin, but a few things have happened:
I had the horrible experience of being dragged towards the fence at the top of Parlick West. The wind was fresh, and I top landed but failed to kill the wing, which inverted and dragged me away. Thanks, Tim for coming to my rescue. The cause: Straps and buckles on my nice new xmas present gloves, which tangled in my speed system line on one side, meaning I couldn't move my hand far enough to control the glider. Lesson learned – if it can snag it will snag. I've cut them all off and am now looking around for anything else that can catch. Please take a careful look over all your kit to see if there is anything that can snag a line, because it will one day. Of course, you don't still have that camera on your helmet do you . . .?
A few reports of careless airmanship – whether turning in the wrong direction when joining pilots already thermalling, or not turning and flying straight across the diameter of a circling pilot, or keeping to your course when it means a hang glider is pushed out and is forced down to the landing field, these are all potential dangers which shouldn't happen if everyone is keeping a good lookout. In the HG incident I watched the PG pilot, who had right of way, continue on course towards the HG, so the HG had to turn away from the hill but as the lift was weak, he had no option but to go for the bottom landing. It takes a lot of effort to carry up and rig a hang glider, so please try to remember this in scratchy conditions, and consider a slope landing rather than push then out. Possibly the HG wouldn't have made it back up anyway in this case, but that's not the point.
Tight lines everyone,
Brian
Safety Officer